James Bond 007: Everything or Nothing
for
PlayStation 2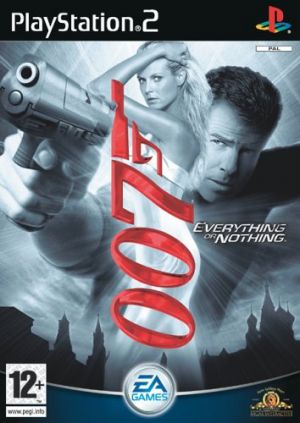 Key Information
Publisher
Electronic Arts
Release Date
27 February 2004
Other Platforms
Where To Buy
Price History
Our Thoughts
In what was a first for the James Bond series, a video game not based on a film, but a video game film of its own. At the time of creation in 2002, Die Another Day was awaiting release and Pierce Brosnan was at the helm of the super sophisticated secret agent. He leads a full star cast here that includes Heidi Klum, Shannon Elizabeth, Willem Dafoe, John Cleese and Judi Dench. The game has an all new action story that involves all the ingredients for a recipe of Bond success. Explosions, cars, girls and gadgets, throw in Pierce Brosnan and Walther P99 and we have a game people!
Unlike previous Bond games, Playstation 2's 007 Everything or Nothing is in the third person perspective, allowing for a better gameplay and better visuals. The graphics are fantastic for the time, and hold up extremely well today. The story spans over several competitive and stylish levels, making for extreme fun and the multiplayer gameplay is great timeless fun. The weapons and the cars will appease the most hardcore Bond fans and the new age of fans.
Playing this game is a must! Owning this game is an extreme must! Becoming Bond is your destiny!
Recommended
Reviews