Wallace and Gromit's Grand Adventures, Episodes 3 and 4
for
Windows PC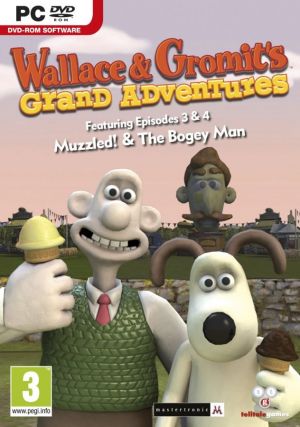 Key Information
Release Date
14 January 2011
Where To Buy
Price History
Our Thoughts
The finale to the episodic story of Wallace and Gromit, episodes 3 and 4 contain the best part of the story. Pick up where you left off after the storm ravaged the town in episode 3, Muzzled! A newcomer has come to town raising money to restore the dog shelter named Mr. Muzzle. Something isn't right though, and there are too many sad looking strays.
Join Wallace and Gromit as they investigate this newcomer to find out the truth. A sad affair that has to be corrected. As you use your detective skills to find the awful truth you are immersed in a family friendly world. After righting the wrong though you are left on a cliffhanger with Ms. Flitt. That's where episode 4 picks up to bring everything to a close.
Now you are a member of the country club, but the manager has taken a disliking to you. There's a golf course but no one knows where as the deed is missing. Search for the truth and play an exciting round of golf to close this amazing story. If you were left hanging with the first two episodes these last two will surely leave you satisfied.
Reviews