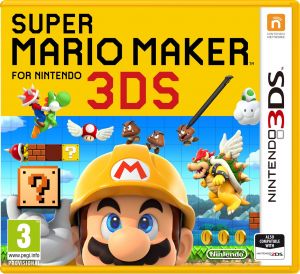 Key Information
Release Date
2 December 2016
Other Platforms

Wii U
Where To Buy
Price History
Our Thoughts
As the famous saying goes, "he who is tired of playing Mario, is tired of life".
This quote master also states, "you find no man, at all intellectual, who is willing to stop playing Mario".
No, it's not Samuel Johnson who said this, but you can be forgiven for believing that was the case. It was in fact our founder and chief Mario fanboy, Mr Daniel Crocker. Praise be upon him.
But, if by some shocking happenstance you have become bored of playing Mario (perhaps by playing it too much), Nintendo have a new trick up their sleeves; INFINITELY unique levels. Some generated by the community, some pre-made, and some designed by yourself.
At the time of writing over one million levels have been uploaded to Nintendo's servers, which assuming you can complete each one in a minute (you can't) that's a solid two years of gameplay. Take that Final Fantasy!
Now you have no excuse ;)
Reviews