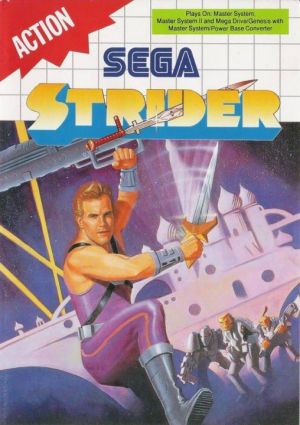 Key Information
Other Platforms

Mega Drive
Where To Buy
Price History
Our Thoughts
Capcom's Strider was released on the Sega Master System in 1989 and was extremely well received, winning EGM's game of the year 1990. Not only this, but it was one of Sega's highest selling games of the time.
Strider is a side scrolling platform game and sees the player control the fate of 'Hiryu' the youngest member of the ninja agents known as 'Striders'. Set in the future, the year 2048 to be precise, the world is ruled by the mystery dictator known as the 'Grandmaster' and Hiryu has been burdened the loan task of assassinating the grandmaster and claiming back the world for mankind.
Manoeuvre in all directions, attack and jump your way through the levels as Hiryu, your primary weapon is a fantastic plasma sword called Cypher that slices through enemies like butter. Hiryu is capable of acrobatics with various combinations to be mastered on your controller. Power ups are also attainable these include stronger attacks and a couple of different scales of health packs.
There is a maximum health pack and an illustrious invulnerable power up which makes him invincible for a period of time whilst also increasing attack damage. Strider is a fantastic game and one of Capcoms very first hits! A thoroughly enjoyable game that's whole heartedly recommended.
Fun fact: British rap artist Tinchy Stryder has mentioned on numerous occasions that this was his favourite game growing up (though he claims to prefer the Mega Drive version).
Reviews