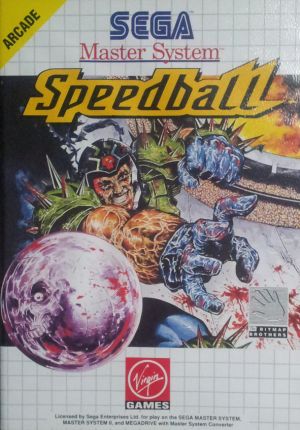 Key Information
Publisher
Virgin Interactive
Where To Buy
Price History
Our Thoughts
Speedball for the Sega Master System is a futuristic "Cyberpunk" sporting game, released in 1992 and regarded as a classic game that has spawned many sequels and remakes. Fictionally regarded as THE action sport of the 21st century, you don't only get points for scoring goals in this game – you also get points for violence on the opposition.
Prepare for a sporting battle royale! The game itself is competed by two teams on a small closed off court with a goal at either end, much like five a side football or ice hockey. Points are scored by getting the ball into the goal (an obvious one I know) and also injuring players in the opposite team, the team with most points at the end of the game are declared the winner.
Gamers only have control of one outfield player on a team at any given time and there are power-ups and point multipliers scattered around the court potentially aiding you in causing maximum damage to the opposition or rapidly increasing your score.
Dodge vicious tackles and fatal take downs as you look to break bones and crush the heads of the opposing team. Speedball is great competitive fun with a multiplayer mode.
Reviews