Special Criminal Investigation
for
Master System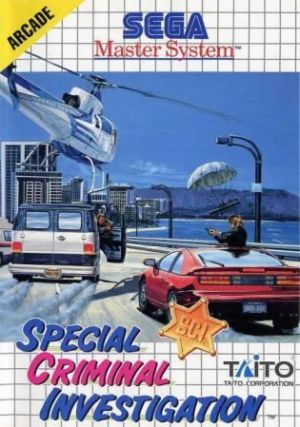 Key Information
Our Thoughts
Way before the glitz and glam of CSI with its revolutionary use of forensic science to catch the bad guys was SCI. SCI or Special Criminal Investigation was released in 1989 for the Sega Master System and is set behind the wheel of a cop car with two officers at the helm, Tony Gibson and Raymond Broady, one drives and ones the gunman.
Brutal criminals have kidnapped the mayors daughter and it's up to the police force's finest officers Gibson and Broady to save her, they are her only hope as the criminal take her to a lair and demand ransom. You serve as the mayors daughters only hope in this thrilling action packed game. The excitement and adrenaline start right from the ignition being turned behind the wheel of your vehicle.
Twists, turns, gun fights and putting the world to rights all explode on the screen in front of you. The action is non-stop and the excitement factor is on point in this classic retro game. Special Criminal Investigation is practically Miami Vice behind the wheel of a car and will keep you glued until the mayors daughter is free from her captors and peace and harmony is restored.
Reviews