Space Invaders: Invasion Day
for
PlayStation 2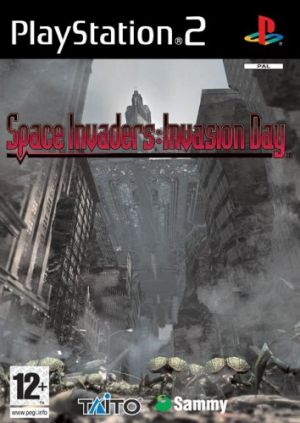 Key Information
Publisher
Big Ben Interactive
Release Date
10 November 2003
Where To Buy
Price History
Our Thoughts
The absolutely unthinkable has happened: aliens have invaded Earth. And they certainly do not come in peace; death and destruction follow in their wake, and almost all of our weapons fail to make even the slightest dent in their defences. It appears as though humanity, and all life on earth, are about to be eradicated entirely...
Enter three (very) unlikely heroes: Justin, a street dwelling teen; Ashley, a well respected fashion photographer; and Naji, a decorated police officer. Through no fault or desire of their own, they find themselves in possession of the tools required to beat the aliens back, and as a result their collective fates as defenders against the greatest threat the beautiful blue marble has ever known is sealed.
As the title indicated, Space Invaders: Invasion Day, is a modern-at-the-time-of-release re-imagining of Taito's genre defining arcade classic. Gone are the blank space fields, simple graphics, and simple patterns: instead, players must deal with far more aggressive and terrifying aliens then ever before, doing so on ravaged street corners and through desolated urban environments- including boss encounters with some particularly nasty xenomorphs. Story has been given a greater focus this go around, with each of the three playable characters having their own detailed backstory as well as a full-fledged story mode peppered with cutscenes detailing the events in full. In addition, the game features a survival mode, wherein the target is simply to blast at aliens as long as you can.
A somewhat divisive update to the original formula at the time, the game remains something of an interesting curiosity, and it does feature the classic gameplay the series is known for (mostly) intact.
Reviews