Sonic & Sega All-Stars Racing
for
PlayStation 3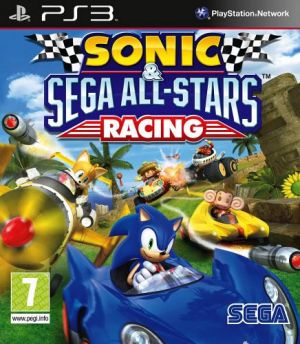 Key Information
Release Date
26 February 2010
Other Platforms
Where To Buy
Price History
Our Thoughts
Oh, you thought the realm of the Kart Racer was restricted solely to the likes of Italian Plumbers and Australian Marsupials? Guess again, lad's: it may have taken Sega a while to enter the fray with Sonic & Sega All-Stars Racing, but as the old adage goes: to be this good takes ages!
Firstly, it's worth noting that the developers of this title, Sumo Digital, have a strong pedigree in the racing field, having worked on several racing titles for Codemasters and being given the chance to work on Sega's own OutRun 2 ports (including the much beloved OutRun 2006), so that is already a good sign. And a good sign well signalled, at that, as the quality of the gameplay in Sonic & Sega All-Stars Racing is phenomenal; tight, easy to control, incredibly varied (including interchangeable vehicle types that react differently to differing kinds of terrain) and unpredictable in all the right ways, it is a title that more then stands strong again it's well established contemporary Mario Kart. The difficulty curve is perhaps a little bit tighter here, though, as a fair warning. Perhaps the greatest feature is the fact that, true to the name, though Sonic gets top billing much of Sega's history is represented in varying ways. Playable characters from throughout Sega's history include AiAi, Ulala, Alex Kidd, Mobo and Robo Bonanza, Ryo Hazuki, and Opa-Opa; and the game features stages from several of the companies franchises, including Billy Hatcher, Jet Set Radio, The House of the Dead, Samba di Amigo, and Super Monkey Ball.
If you're in the market for a quality kart racing title or you're a Sega die hard- or perhaps both- then don't hesitate: go out and pick up a copy of Sonic & Sega All-Stars Racing today!
Reviews