Sonic Adventure 2 Birthday Pack [Japan Exclusive]
for
Dreamcast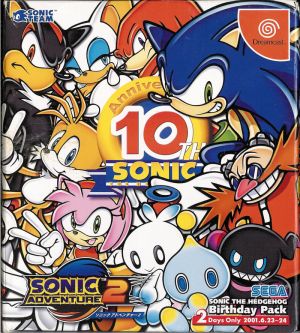 Key Information
Release Date
23 June 2001
Our Thoughts
Sonic Adventure 2 may have been re-appraised somewhat in the years following it's release, but at the time, it was a much beloved entry in the series' then fairly new 3D re-imagining. A bolder story then the first game, a higher emphasis on action then the more slow-paced original, and a highly varied musical accompaniment, Sonic Adventure 2 still remains a firm fan favourite despite it's slight critical re-analysis.
This special edition version of the game; available only in Japan for exactly two days (June 23 and June 24, 2001) includes the game itself, a special gold-coloured soundtrack disc, a Sonic History book loaded with information (including an abridged version of the Sonic the Hedgehog Technical Files, aka Sonic Original Story), and a collectible medal.
Die hard Sonic loyalists, this is a milestone anniversary celebration you might want to look out for... But maybe take a small mortgage out on your house before you do so, yeah?
Reviews