Sonic 3D [Xplosiv]
for
Windows PC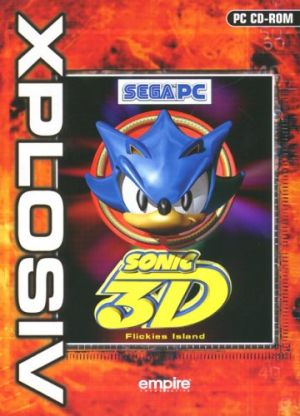 Key Information
Publisher
Empire Interactive
Release Date
15 June 2001
Where To Buy
Price History
Our Thoughts
Perhaps not quite the introduction to the third dimension that fans of the series were expecting, Sonic 3D: Flickies Island sees the spiky blue blur facing off with his arch nemesis Dr. Robotnik once more, only this time, the stakes involve interdimensional travel; the good doctor has discovered that a species of animal critter, the Flicky birds, are capable of moving between dimensional spaces, and, ever the opportunist, decides to make good use of that power by rounding up as many of the little birds as he can.
Proving that coincidences are often more then simple happenstance, Sonic happens to be visiting the island for a break from all that world saving lark around about this time, and nothing puts a damper on your holiday plans then the oppression of your peoples by a wannabe dictator. The stage is set for the two to do battle once more, but this time, it isn't a straight dash to the finish line; the first two acts of each stage are split up into three sections, and you must rescue five Flickies from their mechanised prisons to progress to the next section. Befitting the title, the stages are not mere 2D romps, either; the perspective has been changed to an isometric field with 8 directional movement.

This edition of the game is based heavily on the Sega Saturn version, featuring most of its updated pre-rendered graphics, and the brand new soundtrack composed by Richard Jacques.
Reviews