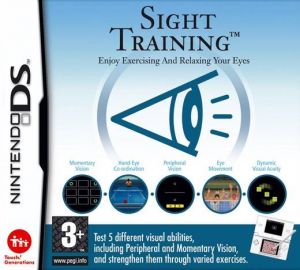 Key Information
Release Date
24 January 2008
Where To Buy
Price History
Our Thoughts
We exercise our brains and our bodies every day, but neglect our eyes. We assume that as we get older we are going to need glasses. That doesn't have to be the case if you train your sight to become better. That's where the Nintendo DS game Sight Training comes in.
Discover the true age of your eyesight and be shocked with what you discover. Do not disparage though; there are plenty of skills you can learn. The game is split into two categories to help train and focus your eyesight. There's core training for basic assessment and sports training to give your sight the exercise they need.
Begin with the core training for a basic assessment and then move on to intense sports training. Follow objects quickly and spy the fast moving cursors. Strain your eyes and build them up to optimum performance. If you find yourself squinting to see, don't automatically get glasses - try sight training and be amazed.
Reviews