Rollercoaster Tycoon 3 [PC Gamer Presents]
for
Windows PC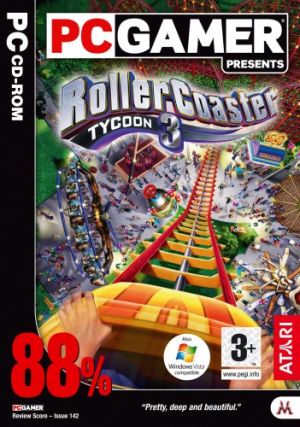 Key Information
Where To Buy
Price History
Our Thoughts
Rollercoaster Tycoon rocked the world by blending intricate simulation gameplay with a theme all of us could relate to, wrapped around easy to understand controls and very addictive gameplay; Rollercoaster Tycoon 2 did what sequels do best and did much the same, but bigger and better, upping the number of rides and attractions and throwing in full freedom by way of a sandbox mode.
Rollercoaster Tycoon 3, on the other hand, took the premise and general ideas of the first two games and gave them a swift kick in the rear, pulling them into the modern age. The graphics have been entirely redone in a far cartoonier 3D style, you now have the ability to actually ride the various rides you build across your parks from a first-person view, and the sandbox features have been expanded into a full mode alongside the requisite career mode.
In addition, further customisation is given to the player by way of things like the MixMaster feature, wherein players can co-ordinate intricate firework shows to both the in-game music or tunes from their personal music library, and a day/night cycle that mixes function with form by way of having different sets of "Peeps" looking for different experiences at your park visiting at different times of the day.
Recommended
Reviews