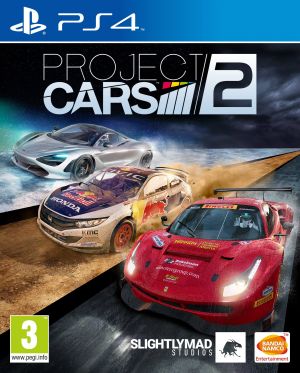 Key Information
Publisher
Bandai Namco Entertainment
Release Date
22 September 2017
Where To Buy
Price History
Our Thoughts
The success of the original Project CARS back in 2015 practically guaranteed that there would be a follow up; the question is, how well would developer Slightly Mad Studios do building upon the groundwork laid in the original title?
The answer is extremely well, actually. Right off the bat, the total number of cars clocks in at 182 individual vehicles from 38 different managers - these cars include the Jaguar XJ220, the Nissan R89C, and the Honda Civic - as well as the addition of Ferrari, Lamborghini, and Porche on the manufacturers side of things.
The track roster has been expanded in total number, too - this time there's a total of 46 tracks with 121 different layouts between them (a number of which were Laser Scanned for accuracy), including Fuji Speedway, the Dirtfish rally cross track, and the Long Beach Grand Prix circuit.
Numerous efforts were undertaken to ensure accuracy and realism on all fronts; the developers frequently convened with manufacturers to make sure the specs of all features vehicles were a match for their real life ones, and a brand new engine called LiveTrack 3.0 has been implemented to ensure track conditions reflect reality as well.
Throw in a focus on E-Sports via it's online multiplayer as a side bonus, and you've got one heck of a racing game that any self respecting gear heads can, will, and must pick up ASAP.
Recommended
Reviews