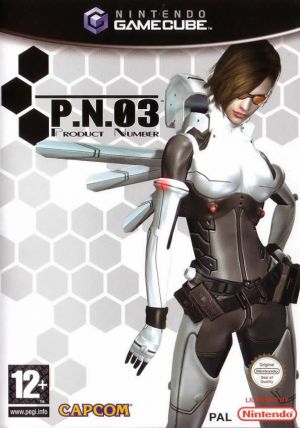 Key Information
Release Date
29 August 2003
Where To Buy
Price History
Our Thoughts
P.N. 03 or Product Number Zero Three is an interesting third person shooter often compared to the Metroid series of games, with elements of Devil May Cry, coincidentally also produced by Capcom. You are Vanessa Z, a mercenary tasked with the mission of destroying a vast array of "berserk robots" currently inhabiting a space colony of a distant planet.
Despite being officially considered a commercial failure, P.N. 03 is considered by many to be one of Capcom's finest achievements since the 16-bit era, though its controls are regularly vilified for the inability to move and attack simultaneously. The colour palette is also a little stark, but those who have enjoyed the Portal franchise should be right at home as there white and light grey literally everywhere. Probably not one for fans of Mario or Sonic.
Nintendo fans will be interested to know this game ended up being a GameCube exclusive, despite the claims by Capcom that it would be ported to the Xbox and PlayStation 2 consoles. That reversal in decision is likely due, in part, to poor sales figures when P.N. 03 was finally released in 2003 after several long delays.
Reviews