Overwatch [Game of the Year Edition]
for
PlayStation 4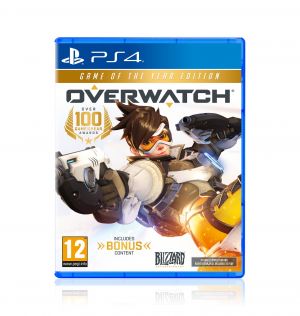 Key Information
Genre
First Person Shooter
Release Date
28 July 2017
Where To Buy
Price History
Our Thoughts
Blizzard Entertainment weren't exactly hurting when it came to popularity of their products- heck, we don't think there's been a single point in recent history where World of Warcraft can be said to have truly struggled, and the company could quite comfortably have continued to coast along on the success of WoW without having to expand much effort. Evidently, though, the good folk at The House Warcraft Built were getting a tad bored of working on just their flagship series', so they decided it was high time they brought something new to the table. And they went all out doing so.
Overwatch is not simply a Massive Multiplayer Online Competitive First Person Shooter (jeez, try saying that ten times fast!); it is a Massive Multiplayer Online Competitive First Person Shooter with a cast so ridiculously varied, wildly inconsistent in design aesthetics and backstory tone, and overall out-there that it comes off as something written by a 13 year old hopped up on sherbet sticks. It is immediately evident that the team working on the game had an absolute blast coming up with the crazy concepts for each and every character and had very little regard for things like "a consistent and serious tone". It is this factor, alongside some tightly designed and highly playable first person shooter action, that has cemented the game as an instant classic that will no doubt remain beloved by the gaming community for a great many years to come.
This special Game of the Year edition version of the game comes with the following extras: 10 Bonus Overwatch Loot Boxes, additional Hero Skins, Tracer Hero from the Heroes of the Storm DLC, a Baby Winston Pet for World of Warcraft, the Mercy's Wings item in Diablo III, Overwatch themed In-game portraits for StarCraft II, and a Hearthstone card back.
Recommended
Reviews