Nier: Automata (Day One Edition)
for
PlayStation 4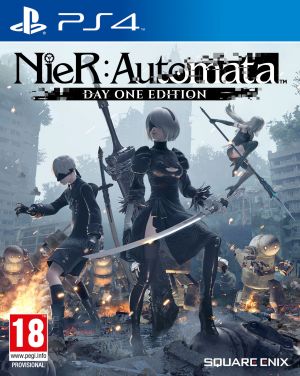 Key Information
Release Date
10 March 2017
Where To Buy
Price History
Our Thoughts
Yoko Taro is a name that, once upon a time, was known by only a select few people. The kind of people who played Drakengard, and weren't immediately baffled and or horrified by all the things it brought to the table. The original NieR brought him and his team a certain degree of fame, and with the release of it's sequel seven years later, he's found his name mentioned alongside ones like Hideo Kojima, Hidetaka "SWERY" Suehiro, and Goichi "Suda51" Suda.
The story begins (somewhat simply): Set in the year 11945 AD, the story primarily revolves around an ongoing war, fought by the final remnants of humanity and the combat machines of a race of alien invaders. So fierce and brutal was the invading force, that said remaining humans had to seek refuge on the moon. Rather then doing the fighting themselves, the survivors created combat androids of their own, dubbed YoRHa, who whilst lacking emotions or names have distinct attitudes that differentiate themselves from one another. As the story progresses, however, things grow far more complicated, as layers of metaphor, symbolism, and spirituality are lain over the increasingly bizarre narrative. Paired off with a fluid and intuitive combat system developed by PlatinumGames- the folks behind the Bayonetta titles at Metal Gear Rising: Revengeance, NieR: Automata is an experience quite unlike any other available on the market currently, and is worth picking up for it's uniqueness alone.
This is the Day One Edition of the game, and features a reversible cover with art provided by the game's character designer (and Square Enix mainstay) Akihiko Yoshida.
Reviews