New Super Mario Bros.
for
Nintendo DS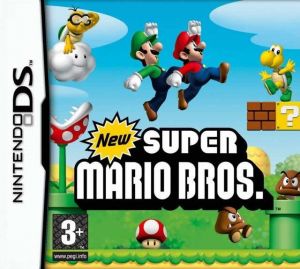 Key Information
Release Date
30 June 2006
Where To Buy
Price History
Our Thoughts
In this 2006 Nintendo DS exclusive release, you can play as Mario like never before! Princess Peach has once again been kidnapped by Bowser, and Mario must once again come to the rescue. With all new graphic boosts for the DS game, power ups will be seen like never before. Grow Mario taller than you've ever seen him in previous titles, with the growing mushroom.
Throw more fireballs at Bowser's' henchmen. Find the Golden Star and become unbeatable. With over 80 playable stages, and eight entirely different worlds, you have quite some work to get done to save your beloved Princess Peach. Use your stylus, and touch screen to pass the tricky obstacles Bowser has left in your way! Help Mario save Princess Peach today!
Reviews