Metal Gear Solid 2: Sons of Liberty
for
PlayStation 2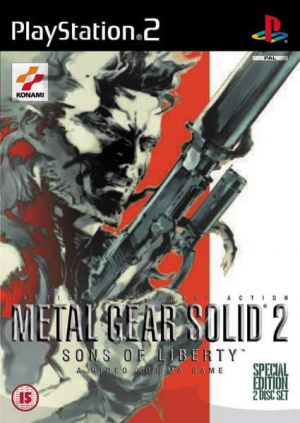 Key Information
Where To Buy
Price History
Our Thoughts
Four years have passed since the dreaded Shadow Moses incident, and the world hardly feels safer; if anything, it feels more perilous then ever, peace and serenity forever hanging in the balance. Dead Cell, a former anti-terrorist unit working for the United States Government, has gone rogue, siding with a terrorist faction named the Sons Of Liberty, helping in the overtake of the Big Shell base off the coast of New York, and the kidnapping of the President.
Further complicating matters is the leader of the Sons Of Liberty, a man claiming to be Solid Snake; Solid Snake is thought to have died during the incident that necessitated the construction of Big Shell, wherein a new, powerful Metal Gear fell into traitorous hands. A rookie agent, code named Raiden, is sent in to the base under the tutelage of Colonel Roy Campbell, acting under the reformed FOXHOUND unit, is tasked with not only getting the president back, but taking down the Sons Of Liberty before they can act on their threats.
What follows is a meditation on and exploration of themes such as the nature of free will, the evolution of man, and a whole host of socio-political aspects that cement Metal Gear Solid 2 as perhaps the most experimental and high concept of Hideo Kojima's works, enjoying the position of the most divisive entry in the entire series for both casual fans and die hard fans alike.
Recommended
Reviews