Marvel Super Heroes
for
Sega Saturn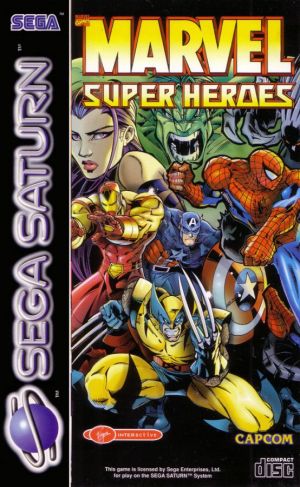 Key Information
Publisher
Virgin Interactive
Our Thoughts
Marvel Super Heroes is a popular fighting video game that was released in 1997 by Capcom for the Sony PlayStation and Sega Saturn consoles. It features a roster of iconic Marvel Comics characters, including Spider-Man, Wolverine, Captain America, and the Hulk, as well as lesser-known characters like Shuma-Gorath and Blackheart.
The game received critical acclaim upon release for its fast-paced gameplay and diverse character roster.. Each character has their own unique set of moves and abilities, and players can execute combos and special moves to defeat their opponents. The game also features a special "Infinity Gem" system, which allows players to temporarily gain powerful abilities by using special items called Infinity Gems.
One of the standout features of Marvel Super Heroes is its impressive graphics and animation. The character models and backgrounds are highly detailed and the character animations are smooth and lifelike. The game's soundtrack is also memorable, with a mix of energetic music and sound effects that add to the excitement of the battles.
Reviews