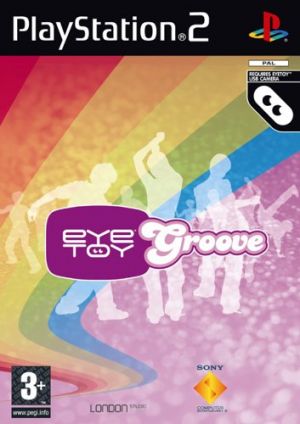 Key Information
Release Date
14 November 2003
Where To Buy
Price History
Our Thoughts
Sony's EyeToy, and the various games that made use, of it could be considered somewhat ahead of their time, foreshadowing the wide appeal of the Nintendo Wii's similar approach to motion controlled gaming.
The gameplay of EyeToy: Groove is primarily an expansion of the Beat Freak mode from the original EyeToy: Play, wherein the player must use their hands and arms to hit targets on the edges of the screen in time to the music, although occasionally the gameplay is broken up with the addition of stars that must be followed from target to target, and a freestyle segment where players are encouraged to move around freely to gain bonus points.
In addition, the amount of calories burned are calculated by the weight of the player, and tracked via an on screen "calorie counter". The game contains a total of 28 songs from artists such as Mis-Teeq, Fatboy Slim, and Good Charlotte.
Reviews