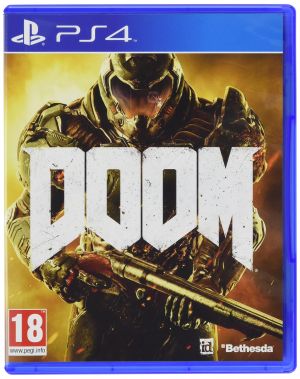 Key Information
Other Platforms
Where To Buy
Price History
Our Thoughts
Doom is a name known and respected by gamers the world over, a great many of whom may not even be huge fans of first person shooters themselves. Not only was it a pioneer in the genre, with slick aesthetics that helped it stand out in a world not yet adorned with graphic and horrifying titles, but it was fun. Difficult, certainly, but no less fun for it's difficulty. It has been an awful long time since the last Doom game was released, the rather polarising Doom 3, and early previews of this series reboot harshly divided opinion among those speculating on its details.
Then the game came out. and needlessy to say. the detractors were silenced.
The game takes far more cues from the first person shooters of old then it does its contemporaries- the interface and HUD are simple to read and not remotely cluttered, the controls easy to get a grips, and the gameplay is breakneck. No, really, if you thought the original Doom titles were twitchy shooters that required sharp reflexes and sharper thinking, then Doom 2016 is going to be one hell of a wake up call (pardon the pun). The aesthetics are notably more grim a d gritty then those of 1993, extending to the game's sharper focus on filfthy dubstep style basslines and grindcore guitars over Heavy Metal MIDI, but there is still a tremendous ammount of fun and even a little brevity included to balance out the darker aspects- though he says very little, the actions and emotions conveyed therein of the main character are guaranteed to get hearty chuckle out of any player that sits down with the title.
Recommended
Reviews