Destruction Double Pack [Extra Play]
for
Windows PC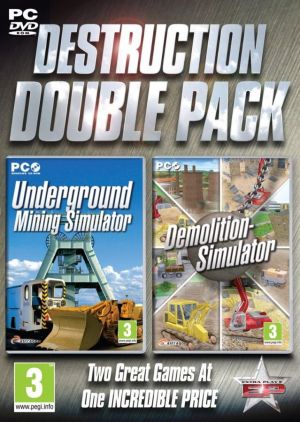 Key Information
Publisher
Excalibur Publishing
Release Date
23 August 2013
Where To Buy
Price History
Our Thoughts
Explosions are awesome right? Try your hand at two of the most explosive careers there are. Demolition double play includes both mining and demolition. Jam packed with explosions and general destruction for anyone to enjoy.
Delve deep into the earth's surface utilizing drills and powerful explosives. Use multiple machines and various mining outlets to extract precious materials. Including a career mode where you can rise from a lowly pickaxe worker to an illustrious mining tycoon.
Take time out from mining precious materials to get back to destruction with the demolition portion. Place explosives and use wrecking balls to clear away dilapidated buildings. Use a varied arsenal to wreak destruction and clear it away for future buildings. If you want a productive way to destroy get Demolition Double Play today.
Reviews