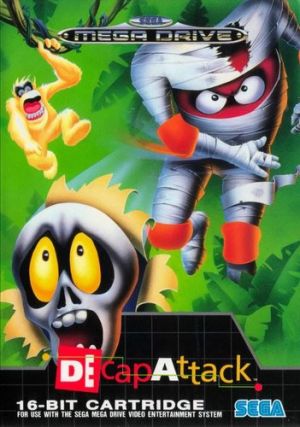 Key Information
Release Date
1 September 1991
Our Thoughts
Crazy scientist Dr. Frank Stein has created a mummy Chuck D. Head who has work cut out as he must face Max D. Cap the villain from the underworld and his minions to rescue scattered islands. Decap Attack game is a two dimensional of side scroller platform genre. You are the mummy with the head as his weapon. You can run, jump, punch or aim your head at enemies to fight them.
All you need to do is cross platforms, search and amass potions, and decimate monsters. In certain levels you have to find the particular item until which you remain at the same level. The theme song is quirky and there is also an eerie organ music sounding your death. The main characters and tiny opponents have a great graphical presentation. The controls are excellent. Watch out for traps like Bouncing Platforms, and Air Blowing Mountains where you might not have much time to get your act together to face the baddies.
So if you are just in for some mindless fun then go for it. Remember, Decap Attack was also on the list of top Mega Drive games of all Time. Time to check it out, isn't it?
Reviews