Dead or Alive 4
for
Xbox 360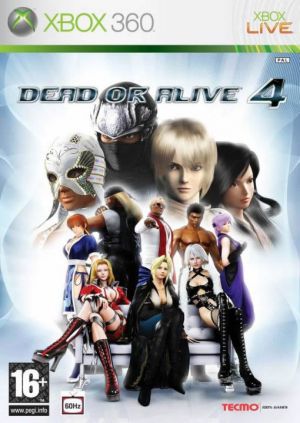 Key Information
Release Date
27 January 2006
Where To Buy
Price History
Our Thoughts
Dead or Alive 4 is an all out fighting game that is the fourth instalment of the hugely successful Dead or Alive games. With a superb online capability allowing you to do battle with people all across the world and rack up a tally of KOs with people from all walks of life.
Released in December 2005, Dead or Alive 4 directly follows the events of 2001's Dead or Alive 3 with an impressive story mode allowing you to play the character and discover a bit of a back story, there are 22 characters to play with in this game including new characters such as a character and a location from the Halo series.
As well as a fantastic multi-player option, a survival mode where you see how long you last as one by one your lined up against a fearsome kick ass opponent with tremendous and unique abilities. There's a team battle mode, which pits teams of eight fighters against one another in an all out group punch up. Master the fantasy, take on vast opponents, unleash high kicks and devastating punches, bust heads and get the all important KO.
Dead or Alive 4 will certainly not disappoint even the most discerning fighting game fans.
Reviews