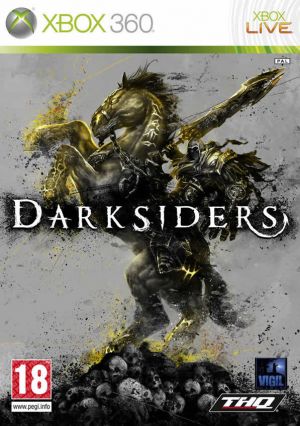 Key Information
Other Platforms

PlayStation 3
Where To Buy
Price History
Our Thoughts
Based on the Book of Revelation's battle of Armageddon and the legend of the apocalypse, Darksiders is an action adventure played from the third person perspective. As "War", one of the quartet of Apocalypse Horsemen, you must avenge betrayal and ruin. Evil forces by deception make War to destroy the Earth before its destiny.
He has been shamed and thrown to earth. In search of truth he must distinguish what is good and bad. He is being attacked both by angels from heaven and demons from hell. Forging a pact with the devil himself his main objective is to clear his name. He soon realizes he is a puppet in hands of fate. The nonlinear playing format allows War to revisit areas that he would have missed earlier. But this can be done only when he gets back the lost powers. Search for hidden treasure chests, health chests, and bonus life points.
There are many weapons for use. Souls are found in the form of resplendent globes. You play War to bring together lethal attacks and superpowers to bring doom to anyone who crosses your way. Experience macabre surroundings as well as the Xbox LIVE magic.
Reviews