Darkened Skye
for
GameCube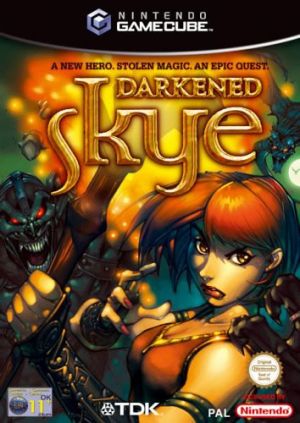 Key Information
Release Date
9 August 2003
Other Platforms

Windows PC
Where To Buy
Price History
Our Thoughts
How would you like an action adventure game that combines mythology and puzzles in a strong story? Darkened Skye is such. Play alongside Skye who hails from the land of Lynlora. This young girl is a shepherdess. She is a spirited, adventurous and clever. The discovery of magic transforms her ordinary world permanently.
She has to destroy Necroth, the lord of evil and release the power of Skittles, the gem with allegedly magical powers. This will also make Lynlora vivacious and beautiful. She must now counter blackness. She is in search of a quintet of ancient prisms which would help in averting the control of evil on earth. She is assisted by her quick tongue, strong spells and accurate weapons. Don't miss her sidekick, Draak the witty, know-all, wise head and her lover who is not available at her time of need.
See Skye overcome numerous hurdles in her war for peace. Using the powers of magic she triumphs over the monsters in some electric action that is sure to send a thrill down your spine. The audio is vastly improved by the voice acting, making for a game you will find very hard to put down.
Reviews