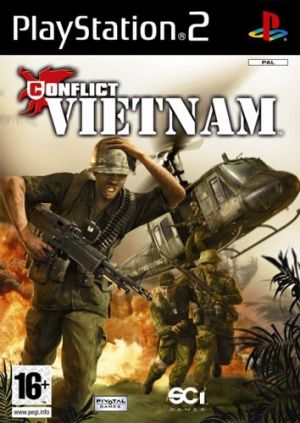 Key Information
Release Date
3 September 2004
Other Platforms

Windows PC
Where To Buy
Price History
Our Thoughts
The scene of action is the 1968 Tet Offensive in the infamous Vietnam War. A soldier quartet of Ragman, Junior, Hoss and Cherry, must claw their way back from behind enemy lines. Rather than being a gaming account of the war, Conflict: Vietnam talks of the saga of the soldiers in facing the challenge of inhospitable terrain in the form of the dense jungles of Vietnam along with a ruthless, unseen enemy.
In this third person shooter game you get to control all four team members, and the missions include riding an armed boat to face friendly or hostile fire, rescuing hostages, moving through temple ruins as well as engulfing forests and even entering the old capital city of Hue. Other than the heavy artillery in your possession you can ride cars left behind by Viet-Cong men or tanks, boats and choppers of American soldiers who were caught.
There are also gun placements and twin-manned mortar sites for your use. But beware of land mines laid by Viet-Cong, trip wires of grenade and water mines punji stake pit traps and the anti-personnel mine named "Bouncing Betty".
Recommended
Reviews