Company of Heroes: Opposing Fronts
for
Windows PC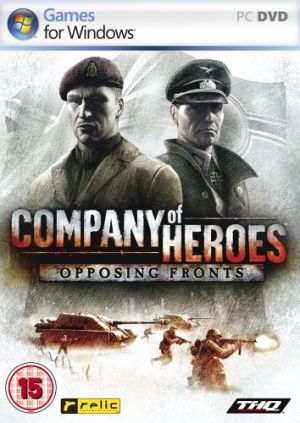 Key Information
Release Date
28 September 2007
Where To Buy
Price History
Our Thoughts
It's no secret that World War II is a favourite period of time for media as a whole, but especially strategy or action games. However, sometimes, a game comes along that brings some originality and flavour to the period and carves an identity for itself in the process; Company of Heroes: Opposing Fronts is one such game.
You have the choice of commanding the British 2nd Army or the German Panzer Elite, and take up the Battle For Caen campaign. In the British 2nd Army seat, you are in control of the Royal Canadian Artillery, the Royal Commandos, and the Royal Scottish engineers, with defense being the order of the hour; on the German Panzer Elite side, however, your orders are carried out by the 2nd SS Panzer Corps and the Luftwaffe Paratroops, with the goal of invasion and offense being favoured instead.
Both sides of the conflict have access to some wonderful (and diabolical) toys, such as the Horsa Gliders or Churchill tank, and with some exhilarating graphics showing the vicious conflict in full detail, Company of Heroes: Opposing Fronts is a strategy game you'd be remiss to pass up on.
Recommended
Reviews