Combat of Giants: Dinosaurs 3D
for
Nintendo 3DS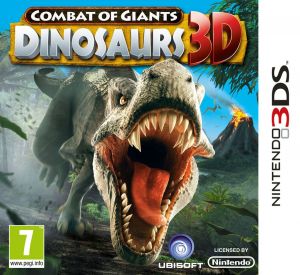 Key Information
Release Date
1 April 2011
Where To Buy
Price History
Our Thoughts
Like highly successful tiles for video games this also moves the envelope further for the Combat of Giants series. Come enter the thrilling three dimensional world of Jurassic Park for some immersive gameplay. Special combat moves and enhanced environments are added features of this new game. Move through these phenomenal visuals while designing, controlling dinos and fighting enemy gargantuan dinosaurs in some real time combat.
The upward movement through the levels will finally bring you up against the last boss Arkosaurus. There is a rule to combat the ultimate monster. You must select a quartet of dinosaurs one from each type namely, predator, hunter, charger, or defender. You can either attack or dodge the contenders. When a dinosaur that is flashing the color blue is attacked, a dinostrike or powerful attack can be unleashed. The opposing dinosaur will flash red to warn you of an attack which is a good time to prepare to dodge.
Earthquakes and volcanoes are introduced in the game to knock dinosaurs down and injure them during combat. If the health of every enemy dinosaur is reduced to zero you win. Not only do you defeat the opponents but also re-establish peace in the world.
Reviews