Classic Word Games
for
Nintendo DS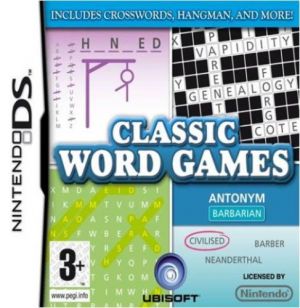 Key Information
Release Date
26 June 2009
Where To Buy
Price History
Our Thoughts
Care for some wonderful word games? Classic Word Games offers an enjoyable method to update your word power and fall back on your existing knowledge. In nearly 13 mini-games that consist of old games in a new form or Nintendo designed games and old world word games try your mental ability. Games are also available as unlockables while you gauge your performance.
Whether it is the classic Hangman or Crosswords test your vocabulary. With lots of information on words add to your repository. Play also with meanings, opposites of words, memorable quotes and oft-repeated phrases. The timing of games is adjusted to your level of gameplay. Stars are won with every mini-game both for accuracy and speed. The progress to the next level is when you receive 100 stars.
With a record of the words learnt by you, the Classic Word Game version chooses these words to help you master them. Like training modes this game has a Warm Up round as a prelude to your games being tracked. There are single and multi-card downloadables that lets you compete with kith and kin.
Recommended
Reviews