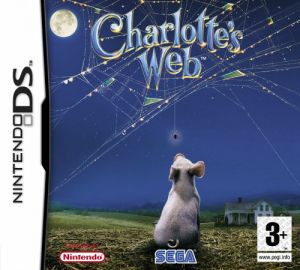 Key Information
Release Date
9 February 2007
Other Platforms

PlayStation 2
Where To Buy
Price History
Our Thoughts
This is the tale of a friendship bond between animals.Playing as Wilbur, the pig, and Templeton, the rat, you can experience four different environments, namely, Zuckerman's Barn, a Junkyard, the Countryside and the County Fair. Enroute you get to help Charlotte the spider find her little spindly ones as does Gussy the goose who is in search of her lost offspring.
The main task is that you are on a quest for words that Charlotte the Spider and close friend of Wilbur needs to spell out messages through the webs she spins to help save Wilbur from becoming a festival ham. The DS version also features exciting mini-games like Ring Toss and Bumper Cars, and wireless multi-player for up to four players.
This version also has a pet simulator that comes into play after mid-level save points. There is yet another unlockable mini-game, where you are Fern the human owner who cares for Wilbur. While it is a platform game, the pig character makes jumps this often impossible. Wilburs singing makes for an effective defence. You can also parachute with baby spiders and involve Templeton the rat in a fun puzzle.
Reviews