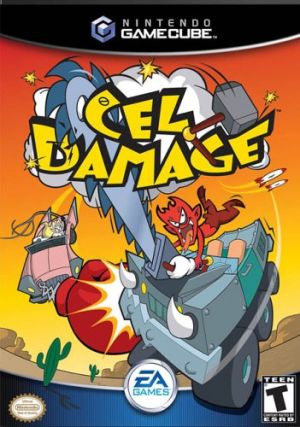 Key Information
Publisher
Electronic Arts
Other Platforms

Xbox
Where To Buy
Price History
Our Thoughts
How would you like to battle it out with some loony cartoons in Cel Damage? Each with his own armed and outrageous vehicle, your aim is to win them all. Play in 12 different game environments interactively as a gangster duck or a dwarfy demon carrying a wood-chipper. Cartoon characters carry funny weapons like big boxing gloves, baseball sticks, axes and chainsaws.
The graphics are you guessed it, cel-shaded and visuals give the feel of an episode in a cartoon series. Play as any one of half a dozen characters with four more unlockables. Invite your pals to join some split-screen action. The variety of game modes include Smack Attack, which is a death match where every toon must defeat the rest to garner the maximum number of smack points. Then there is Flag Rally mode, where you should collect four flags before reaching the winner's circle.
However the difficulty is that the flags are in motion and can evade capture. By passing each of the two checkpoints in a course five times first you can triumph in Gate Relay mode. So, come on join the fun.
Reviews