Carnival: Funfair Games
for
Nintendo DS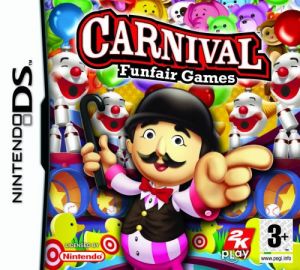 Key Information
Release Date
22 August 2008
Where To Buy
Price History
Our Thoughts
How would you like a game that makes optimal use of Nintendo DS's awesome control? Try out Carnival Funfair Games before you make a decision. The handheld console can be used to perform moves like tap, blow, speak and even the stylus can be put to good use. Bring out the best of the console's dual-screen, touch screen and microphone control features.
More than 20 games both old and exclusive like Alley Ball, Dunk Tank, Frog Leap, RC Raceway and Bumper Boats are available. Enjoy by not just playing games but purchasing candy, or finding out secret surprises and other goodies. Every game has a special virtual prize depending on the score you notch. Your rewards will include a funky rock guitar or an amazing Ninja type sword.
Don the hat of a pirate or feet of gorilla, mask of a dragon or head like a bowling ball. Style the color of the skin or tint on the hair and even your sex of the characters you take on. Jump in and have fun!
Recommended
Reviews