Carmen Sandiego: The Secret of the Stolen Drums
for
Xbox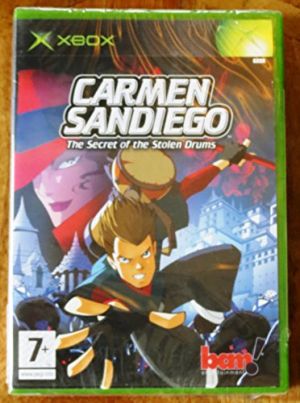 Key Information
Release Date
5 March 2004
Where To Buy
Price History
Our Thoughts
You must catch the worlds greatest thief, Carmen Sandiego as part of the A.C.M.E. team as trainee agent Cole Gannon with your team mates Jules Argent and Shadow Hawkins. The story begins in Africa when the last in the line of an African King reveals in his death bed the presence of a know-all diamond inside a secret temple in the thick Rwandan forests.
However the catch is you must secure the map that has been divided on the skins of eight drums that are located in different parts of the world. So you need to bring together all of them. With protection of mysterious powers the drums could be a handful. This is surely linked with the museums all over the world losing invaluable antiques of African origin. All fingers point to Carmen Sandiegoan old hand.
As Cole you are globetrotting taking you through a New York museum, New Zealand beaches, Machu Picchu ruins, and other exciting places. A variety of fighting methods like martial arts, stealth and acrobatics and even wit are all needed to prevent the lost treasure from ending in the wrong hands.
Reviews