Capcom vs. SNK 2: EO
for
GameCube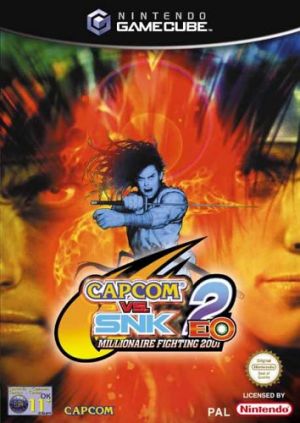 Key Information
Release Date
30 August 2002
Where To Buy
Price History
Our Thoughts
If you are a die-hard fan of fighting games, this one is right up your alley. This two dimensional beat them up game doesn't get any better. From the stables of Capcom who had earlier developed the famous 2D fighting game, Street Fighter, comes this game. EO in the title means Easy Operation. It means that to make a particular move just shift the right analog stick one way.
The idea of this game is to repeatedly attack your enemy until they fall down. Don't miss the ratio system in choosing the characters. Choose from a variety of six grooves or fighting styles. There are also subsystems which are moves like dash, run and guard cancel. The grooves also change the method of gameplay. There are two more grooves called AC-ism and GC-ism. Also select a trio team and opt a host of game modes.
You get to play with Evil Ryu, Orochi Iori, Shin Akuma and Ultimate Rugal as additional characters. While the control option with six buttons is available, a joystick for arcade style games is absolutely necessary for smooth working. There is also an online version multiplayer mode.
Reviews