Call of Duty 3 [Gold Edition]
for
Xbox 360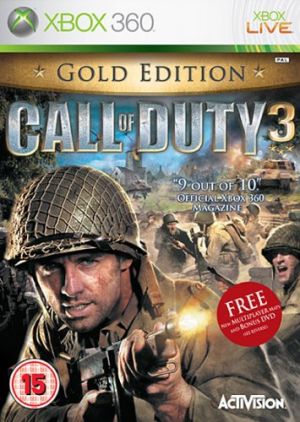 Key Information
Release Date
23 March 2007
Where To Buy
Price History
Our Thoughts
A bonanza of an interesting bonus DVD disc as well as free access to five multiplayer maps that make up the Call of Duty 3 "Valor" Map Pack. The scene of action is the famous Normandy campaign that led to the Paris liberation and Allied movement towards Berlin.
As a soldier quartet of Allied nations USA, Britain, Canada, and Poland you participate in a smooth story that exhibits nonstop action in battle using amazing range of combat moves. These include one on one combat, disarming traps and improvising explosive devices testing your agility of brain and brawn. The excellent graphics portray intricate features of animation of characters while sparks fly around on screen. Welcome to the immersion and high definition world of world war adventure that is both cinematic and realistic.
Upto 24 players can compete online as different classes of soldiers like riflemen, infantry, scouts etc. Two player vehicles allow you to take the wheel while a friend man machine guns.
Reviews