Call of Duty 2: Game of the Year Edition
for
Xbox 360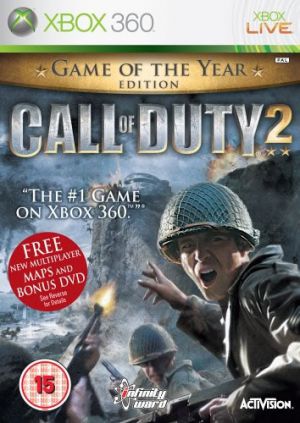 Key Information
Release Date
21 July 2006
Other Platforms

Windows PC
Where To Buy
Price History
Our Thoughts
Can you get one step further to the best battle games ever? Call of Duty 2 is such an attempt. Welcome the allied and Nazi Artificial intelligence to enhance fighting experience. You just can't miss the special visual effects that have been added particularly smoke that literally covers every part of the battlefield. However the audio clashes of men shouting orders or hints and movement of storm troopers gives you a feel of a real battlefield.
The Xbox 360 console's Dolby Digital surround sound technology adds depth and chaos to this war simulation game. Derive pleasure from trying to ward off the last of the Nazi resistance or even throwing a smoking grenade into a machine-gunner's bunker. After this you can even storm the bunker in pitch darkness of a blackout. A marked difference from its predecessor is the gameplay option of choice. In other words, you can alter the mission sequence to your convenience.
In multiplayer mode extract maximum fun by teaming up as Allies Vs. Axis teams. In the least learn about the lives of soldiers and gain a better understanding of what the war demands out of individuals and nations or their armies.
Reviews