Butt-Ugly Martians: Zoom or Doom!
for
GameCube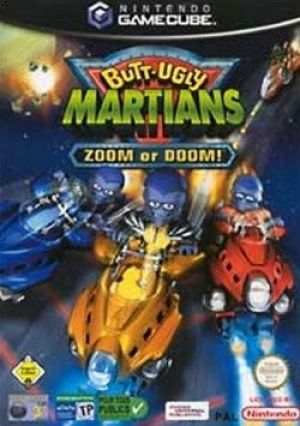 Key Information
Publisher
Vivendi Universal Games
Other Platforms

PlayStation 2
Where To Buy
Price History
Our Thoughts
The Butt-Ugly Martians must triumph at the thrilling outer space racing championship titled Martian Conqueror's Cup if they wish to stay on in planet Earth. So, this is a racing game using out of the world vehicles to be the first past the post. However there is a twist. You need to also fend off attack from other aliens, you could also get the better of them in the race or subdue the lot.
Choose to play the hero or be on the wrong side of the line. A split screen offers dual player gameplay and move through a variety of nine tracks. Try the Assist mode to get more familiar with controls and deft moves. The game lets you divert opponent attention so that their chances of winning the race are hurt through the Taunts system. You can select from a range of missiles, hurdles, extra terrestrial technology, smart weapons and other accessories.
The characters likeis B.Bop-A-Luna, 2-T-Fru-T, Do-Wah Diddy are interesting. And for some baddies look out for Jax the soldier, and Gorgon, Chitzok alien warriors. So it is acceleration or apocalypse for you?
Reviews