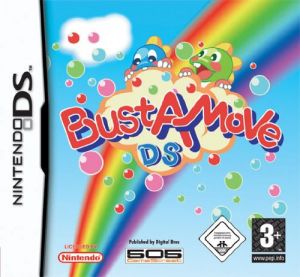 Key Information
Publisher
505 Game Street
Release Date
1 March 2006
Our Thoughts
Here's a game that taps the touch screen facility of the DS to its fullest. The game boasts of revamped graphical presentation, introduction of a variety of characters, different gameplay levels, and a novel interface. Move the bubbles with your hands as you touch them on the screen and guide to appropriate location. Your own fingers can be used as guns to take pot shots.
The game has an added feature of first time puzzles with bubbles of course. So there is a need for skill and spunk to play this game. Other than the favourite Bub and Bob characters choose from half a dozen more bubble friends. With a stronger Artificial Intelligence, play against better enemies. Invite up to four of your pals to join you for a wireless multi-player version too. Try hundreds of puzzles and many others that are unlockable.
In puzzle mode, challenge yourself to 50 groups of puzzles. The download facility helps you compete in the Vs. Mode in multi-player style. Continue playing with Endless mode that gives you bubbles till you wish. Don't miss this cute and addictive game!
Reviews