Bubble Bobble Double Shot
for
Nintendo DS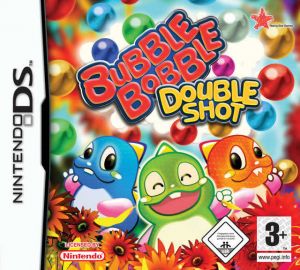 Key Information
Publisher
Rising Star Games
Release Date
7 March 2008
Where To Buy
Price History
Our Thoughts
Replay the hidden mysteries that are all solved by bubbles bobbing all around. This platform game lets you use twin screens where you face in-depth detail filled enemy roster that appears in the entire series. While this game adapts a lot of its preceding games' specialities it also offers novel features. You can alternate between characters when you aim to deal with opponents who are identified by colour codes.
There is a new character in Bubu who joins the duo Bub and Bob to deliver different coloured on the enemies. Now you can also shoot star bubbles that can modify the colour of the opponent when they burst. This applies for Bub, Bob and Bubu. Play several mini games and the mega speed monster chase in which Bub must move to an exit without the foe catching up with him to enable Bub to return to the main game.
Other than the single player 100 levels, a maximum of three players can indulge in multi-player cooperative mode. All players can gather more bubbles and grab points more vigorously in this version of the game. Don't think it's just child's play!
Reviews