Brian Lara International Cricket 2005
for
PlayStation 2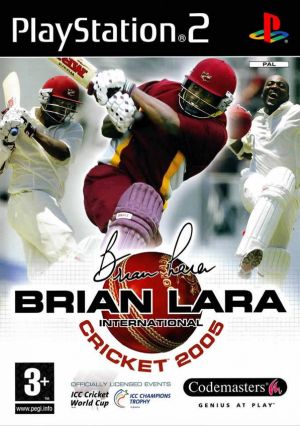 Key Information
Release Date
21 July 2005
Other Platforms
Where To Buy
Price History
Our Thoughts
The excitement, thrill, depth and drive of cricket at the highest international level is here. Apart from the title player, you have English all-rounder Andrew Flintoff; star Aussie captain Ricky Ponting; India's Midas M.S.Dhoni, and Sri Lankan spinning sensation Muthiah Muralidharan.
The year is 2005 and the cricket season is getting off to a fantastic start; in the Trophy competition mode you can play ODIs, Test matches and T20s. There is also the competitive play option over the internet, if your console supports that function. Whether you wish to nick an edge, try a sweep, or punish a loose delivery by coming down the track to hoist it for a six, every batting stroke can be attempted. Experience bowling as never before, be it the scintillating spins or the searing pace.
Fielding shows a lovely catch at slips, or you can be run out at either end of the wicket or even allow stumping by wicket keepers. The visual likeness of every player including expressions is awesome. The use of shader technology to capture light effects at a particular time of day, together with employment of texture, bring all eight official World Cup venues to life.
Reviews