Boom Blox: Bash Party
for
Wii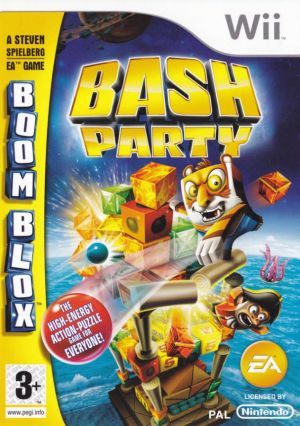 Key Information
Publisher
Electronic Arts
Where To Buy
Price History
Our Thoughts
This sequel to the hit game Boom Blox reaches another level in party gaming of the action genre. The multi-player mode includes, Versus, Co-op and Team Play styles. Play across 400 brand new levels spanning terrestrial and celestial spaces. Enter worlds designed with unique physics and amazing visuals.
The game introduces the Blox tools like Virus Blox that can infect and destroy; the Conveyor Blox that keeps moving constantly. Handle both characters and Bloxs alike. You can trip, thrash or throw any of them. Use the Cannon or slingshots to sling Bloxs. Whether you are submerged in water or staying afloat in space you can cause trouble or just wait for puzzles and detonations to happen. In one player mode, levels require you to finish time-controlled knocking down of blocks or collect the maximum number of points with few turns. For your efforts you can get a gold, silver or bronze medal.
Gold medals garner unlockables that open Creation Mode. Take a leaf out of Bejeweled to aim balls that are painted on blocks and matching their hues. In multi-player mode, gameplay is more fun as you dismantle buildings in co-op mode or sink enemy ships made of blocks.
Recommended
Reviews