Bomberman Land Touch!
for
Nintendo DS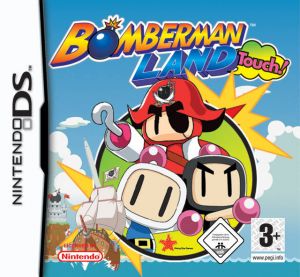 Key Information
Publisher
Rising Star Games
Release Date
23 March 2007
Where To Buy
Price History
Our Thoughts
How about a special island waiting to offer added excitement and adventure Bomberman style? Move through five different areas around the island including the busy harbor town, a treacherous mountainous region, an attractive aquarium, a dense jungle, and a beautiful castle. In the Story Mode your aim is to become the Pirate King after puzzle solving, challenging the computer for collectibles and keys to gates.
The Story mode helps you play the Attraction Mode carrying a variety of themes namely, action, sports, racing etc. The different consoles allow the Battle Mode to be played by upto eight players in Wireless Card Play and upto four players in Nintendo Wi-fi connection. The roster of articles, tokens and tools of the player will be displayed at the top of the screen. Touching a game play icon lets you use a terminal within the game that can give an update of his position, alter the choice of game play and even opt for saving or loading a game.
In the Nintendo DS console, the ability to employ the Microphone for gameplay like, to douse a fuse that is alight is noteworthy. There is a record of high scores too.
Recommended
Reviews