Bomberman Generation
for
GameCube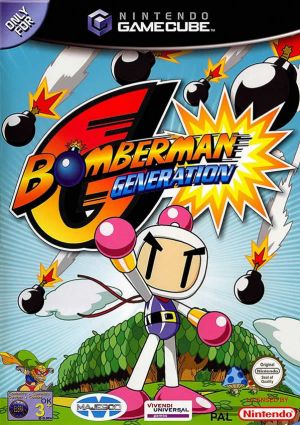 Key Information
Publisher
Vivendi Universal Games
Release Date
5 December 2002
Where To Buy
Price History
Our Thoughts
The game Bomberman with many many more levels, different settings and cel-shaded graphics in 3D avatar is what Bomberman Generation is all about. Vast three dimensional spaces that look for you to solve puzzles as well as stave off challenges from mega-sized villains offers you a complete, unceasing and enjoyable gameplay experience. This game is Bomberman's first game for the Gamecube console.
The main antagonist Mujoe and his bandit group called Hige Hige are in search of the crystals (that make up the Bomb elements), possessing enormous powers that can guarantee them world domination. It is up to the Bomberman gang to stop them. Upon completion of single player mode you receive Charaboms or characters as bombs which along with other collectible items will make bombs of various forms. The multiplayer battle mode offers five options namely, Reversi, Coin, Dodge, Revenge and Standard.
These can pit you against your friends or the computer itself. This game also has returnable parts which are revisited once specified articles are collected. With brilliant graphics, appealing cinematics and gameplay fun this version of Bomberman could truly be the best game that has been offered in the series.
Reviews