Blinx 2: Masters Of Time & Space
for
Xbox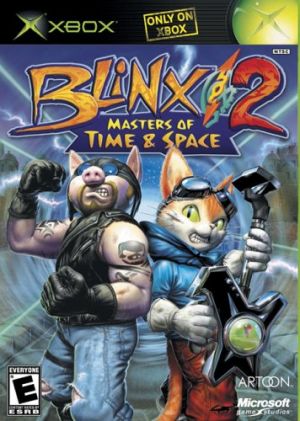 Key Information
Release Date
3 December 2004
Where To Buy
Price History
Our Thoughts
For all those who love teaming up with your pals to play games, here is the best option. Two of you can gang up and attempt the Coop mode while a quartet can clash in Battle Mode. However, you can also venture into game-play individually. For cooperative mode the level of difficulty is slightly higher adding interest in this game.
If you play as a pair you can also access special locations on the map that are unavailable for other types of play. Whether you hold sway over a team of bad porcines or good felines using space and time controls respectively, the Battle mode is on. Possess the freedom to shape the facial features, body structure and attire of these animal characters. As the brave cat Blinx, direct the pace of time to slacken, go back, move rapidly or come to a stand-still as the time controller.
On the other hand, as one of the pesky porkies then you can alter space and have control over it. So, let Time Sweepers and Tom Tom gangs vie for pieces of the Big Crystal and you can be a part of one or the other team alternatively throughout the game.
Reviews