Bleach: Dark Souls
for
Nintendo DS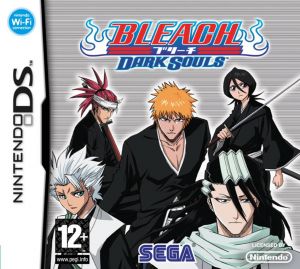 Key Information
Release Date
13 March 2009
Where To Buy
Price History
Our Thoughts
Looking for some unceasing swordsmanship? Bleach: Dark Souls offers this as the ultimate anime style experience for DS. Playable characters have been increased to 44 with a staggering 17 new ones. The Evil Hallows of different sizes also makes their playing début.
The game also adds to the Reifu cards used. The displayed number of cards on the screen has risen from two to four. The Story mode also offers missions where you need to gather articles, or escape from danger or turn quizzer attempting to answer questions flashing on the screen when you are rooted to a spot in the arena. You can even knock down an opponent from his standing area within the time for answering the question. Achieving missions offers the chance to characters and even spirit cards.
Also included is a BLEACH encyclopaedia which offers comprehensive information on characters, description of the unique fighting moves each possesses and also a detailed explanation to all BLEACH related terms. The online game-play has been simplified in the new Wi-Fi battle mode. The Japanese rock band, High and Mighty Color, belts out "Resistance", the widely popular theme song.
Reviews