Black & Bruised
for
GameCube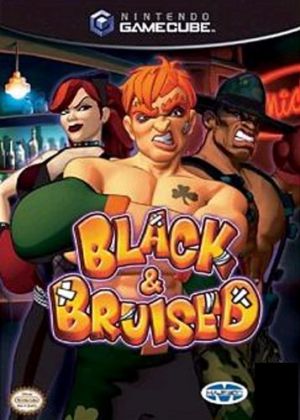 Key Information
Publisher
Vivendi Universal Games
Release Date
27 June 2003
Where To Buy
Price History
Our Thoughts
Transform into a pugilist for some time. In this game, cel-shaded cartoon characters are brought to life in a visually attractive design that is further enhanced by flowing motion of characters made possible through the use of skeletal motion techniques and skin morphing. Play as one of the 18 boxers all in different arenas.
Learn about each of their lives to understand the importance of winning to them individually. Rather than varying outward appearances, the players display unique personalities through myriad of expressions on the face that tell us about the mood of the pugilist and his reaction to punches he has received. The quintet of modes of game-play are Training (which allows you to familiarise with controls that are pressure sensitive which are learn't easily but hardly mastered), Single, Championship, Survival and Two-Player.
You can view this game from first-person or third person perspectives. A comprehensive look at the effect a fights win or loss has on a boxer's life through total motion video updates is possible in Boxer's Life mode play. To know the power in a punch view the stars, sweat, slo-mo objects flying or bangs.
Reviews