Bioshock & The Elder Scrolls IV: Oblivion
for
Xbox 360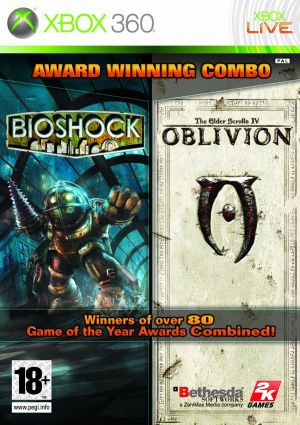 Key Information
Release Date
10 July 2009
Where To Buy
Price History
Our Thoughts
You are a Bioshock or genetically enhanced shooter or killing machine. You must search for the missing heir to the throne of Tamriel. The Oblivion gate opens only to let in demons who will fight to the end of the land. Your mission is to uncover the dangerous plot to destroy the kingdom. Not only will you possess a variety of weapons ranging from the basic hand-held revolver to the more destructive grenade launcher but you also have a very unique ultimate weapon - yourself.
Alert your DNA to make a more powerful self. Use plasmids that can be injected into your body to bestow you with immense strength and abilities. Adopt the method of electrocution, or sending electrical current through water to take out your enemies. You can also turn them into solid ice through freezing. Swinging a wrench against an opponent could also do the trick. The game sets new standards of play as facing the same enemies again warrants an entirely different play scheme.
There is even difference between players trying out the same game. So, enjoy never-before visuals and gamer experience in this double whammy.
Reviews