Big Brain Academy for Wii
for
Wii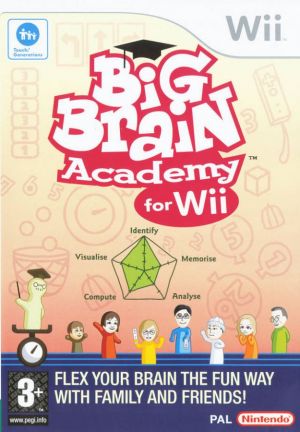 Key Information
Release Date
20 July 2007
Where To Buy
Price History
Our Thoughts
Wish to test a bit of your grey matter? Well, you can try Big Brain Academy. You are a student of this school run by Prof. Lobe. You must make your brain work by solving 15 mini games grouped into five areas of three each. The quintet fields are designed to challenge your thinking, memory, analytical, computation and identification faculties of your brain.
In one mini-game, you are provided with a trio of numbered blocks and you must find which two sum up to a given total. This you must do by knocking the unwanted block using the Wii remote like a hammer. Another game is use inverted and out of shape pictures to identify the missing element that would complete a second image. Having two brick towers where one is punched must snugly fit into the other, is yet another game.
Three different modes of play are up for your pick. These include Brain Quiz, Mental Marathon and Mind Sprint. The multi-player mode allows you to choose between eight player coop mode or competition mode to decide the size of your brain.
Reviews