Big Air Freestyle
for
GameCube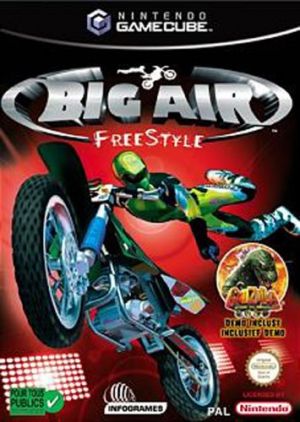 Key Information
Release Date
8 November 2002
Where To Buy
Price History
Our Thoughts
Experience the thrill of motocross racing in Big Air Freestyle when you attempt outrageous stunts and air time. The game can be played in four modes namely, Freestyle, Race, Challenge and Multiplayer. Try gravity-defying jumps and scale difficult ramps in the Freestyle mode. In Freestyle mode, compete against 20 other riders at the same time to win the first spot.
Use some 30 tricks to accomplish this. You can do this in a variety of six arenas having 20 tracks. Freestyle arenas filled with huge jumps, rings of fire, exploding barrels and destructible objects put gamers into a world of action way beyond reality. In the Race mode, tear through vast outdoor tracks, speed through indoor arenas that have special hurdles and designs. There is also a challenge mode for particular aims. In the multiplayer mode, you can invite a friend for a one-against-one gameplay.
A rock solid frame rate of 60 FPS makes for a decidely nippy gameplay experience. Collection of dirt on riders as laps go by and tyre indentation of tracks are excellent. Music mainly punk, and bands like 311 and Sugarcult offer enough pep to the experience.
Reviews